About Us
About us
We create well-running and in-demand apps using app analytics and our desire to succeed
150Mnumber of users in applications
4.9average user rating
35+number of attracted investments
Our apps achieve success on the market due to the values and principles we follow
Weelorum's main advantage is taking care of the partners and their businesses. We use a team approach to achieve goals and results, enjoy a simple way of interaction, and always have a clear plan for product development.
We care about our clients
At Weelorum, we love to share experiences with our partners. We discuss development, analytic, design, and testing nuances, strengthening the knowledge of our clients and trust between us.
We ensure clarity of all processes
We build our workflow step-by-step and move from simple prototypes to complex products. On the first steps, our clients already have a clear idea of what they'll receive as a final product.
Involvement and integration with clients
We practice two-sided engagement with our partners. We dive into the market & future product environment, and clients always participate in the UX & backend creation.
Consistency and attention to details
Details are what makes a great product. That's why we are so keen on making them flawless. We carefully control the quality of our code and make it easily scalable for future product growth.
Win-win communication
Easy communication, engagement, and flexibility are important to our team. And we apply the same rules with our partners.
Fearless when making decisions
We select people for our team based on the principles of involvement, freedom, and responsibility. We choose those who want to develop and move forward.
Developing a product for new
and launched startups
As a mobile development partner, we not only provide our clients
with software solutions but also support them in all business processes.
We are masters in mobile application promotion so can assist you with your marketing strategy
We can help set up & elaborate your current business processes on the development stage and after release
We follow the key performance & success indicators for clients and our own team to keep track of our progress
FOR STARTUPS THAT DON'T HAVE A TECHNICAL BASE, WE OFFER CTO AS A SERVICE AND HELP SOLVE ALL TECHNICAL ISSUES
Becoming a part of your team
to scale your product
At Weelorum, we have experience working with more than 10 niches.
During this time, we became really skillful in coding & porting tasks. Before joining and scaling your team, we do everything to set the basement of our cooperation and build the trust.
We collect the scope of information about the project and the niche
Describe opportunities for current software improvement
Refer to our relevant cases to make our solutions more credible for clients
Test current code & give feedback about it
The discovery phase as a key of our clients' success
We are focused on our clients' success, not only on the fulfillment of separate tasks. And the discovery phase is the essential stage of this journey.
To begin with, we validate the idea: its accordance with the needs and demands of the market.
If necessary, we make suggestions & offer changes to improve and polish client ideas.
The next step is to form a tech stack for the best application
implementation within the budget and optimal terms.
At this stage, our clients already have a vision of the end product.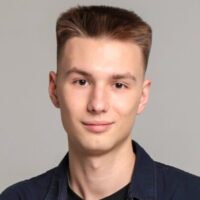 Ilya Budko Chief Executive Officer
We always analyze and evaluate our clients before starting our partnership. Everything that happens before the assessment is done for free.
OUR APPS ACHIEVE SUCCESS ON THE MARKET
DUE TO THE VALUES AND PRINCIPLES WE FOLLOW
First call and interview
We discuss pains and figure out problems (in performance, design, analytics, etc.) & specific metrics that should be improved.
Second call to discuss our offer
We describe a workflow with solutions & future steps and explain our offer to a client.
Project analysis by our CTO
We look through all analytics and assemble a team to offer solutions to solve the client's issues.
The last step before we start
We present our results of the discovery phase, agree upon a plan and estimate your project. After that, we get down to work.
The discovery phase is just a start
We have much more to offer!
EVALUATION AND APPROVAL
When evaluating, we create a backlog of tasks. We present it to our client to show the scope of work based on the work hours in the assessment.
TASKS PLANNING
We create a development roadmap by dividing all tasks into sprints. We give our clients access to Jira, where they can track the project's progress.
DEVELOPMENT & QA TESTING
We start the development process and, at the end of each sprint, test the software we've created. In this way, the client gets an MVP of the first sprint at the end of the second sprint.
UI & UX DESIGN
When the app is ready, we proceed with the design and create a user-friendly and convenient interface.
PRODUCT LAUNCH & ANALYTICS
We use our experience to help clients launch their products and set up analytics. We also offer updates based on the market & users data.
UPDATING & SCALING
When the app is launched and works successfully, we help with updates and scaling.
We help global businesses and startups to
transform ideas into excellent digital products
20+experts in the team
35+successful projects
10+years of experiens