iOS native app development services
Let's create an app that your users will adore as
much as
iOS interfaces!
iOS native app development services
Let's implement your idea into an app for iOS devices
At Weelorum, we provide our clients with many iOS native app development services, including development from scratch and post-launch support. We always focus on app success and usability and create a variety of business-centric approaches for Apple products.

IPHONE APP DEVELOPMENT
Implement cutting-edge technologies with the latest updates.

IWATCH APP DEVELOPMENT
Integrate GPS and LTE features, music streaming, and payments into the app.

IPAD APP DEVELOPMENT
Make a design to enhance usability with apps on bigger screens.
Get the most out of your startup on the iOS platform
Weelorum iOS application development services are based on the principle of making the best product out of your idea.
It is no secret that Apple's iOS brings five times more revenue. We know how important it is to get funding from the seed investor and use investing wisely while building a startup.
CUSTOM IOS APPLICATION DEVELOPMENT
Weelorum is an experienced team of iOS app developers. We create future-forward iOS solutions and develop apps according to the Apple design paradigm.
FULL-CYCLE APP MAINTENANCE
As iOS development experts, we know how to make cross-device deployments and enter the market in compliance with the terms and conditions, regardless of device specifications or iOS version installed.
Strengthening your business with custom iOS app development services
Wellness Apps

Event Planning

Dating Apps

Taxi & Travel Apps

E-commerce

Hospitality

Social Networks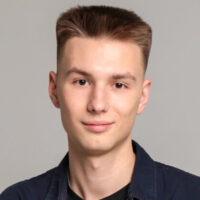 Ilya Budko Chief Executive Officer
There is a perception that the iOS platform is more popular, monetized better, and has faster downloads growth. We at Weelorum become a trusted partner for our clients. As an iOS native app development company, we know how to make an app successful not because of perceptions but because of great discovery, development, and launch work.
iOS-specific functionalities and integrations
According to Manifest, 32% of users delete apps because they don't use them, while 26% say apps don't fulfill their needs. Weelorum develops the latest iOS features based on the data analytics metrics of user engagement. That is why our apps are demanded on the market, and users don't delete them even if there is not enough storage.
iCloud
Safeguard your app development and users data in the cloud
Apple Pay
Integrate Apple Pay payments and Apple Wallet functionality
Siri
Connect Siri user requests with your app services
App Store
Support safe in-app purchases with the App Store
Health, Home, Car integrations
Keep healthcare, GPS, and in-home data maintaining user privacy
Metrics
Measure in-app metrics and analyze users reports
Impactful iOS App Development Cases
LET'S CREATE AN APP THAT IS ON EVERY DEVICE YOUR USERS ARE ACTIVE ON!
Custom iOS app development company
Our approaches as a dedicated team
Our development team works at a fast pace and creates a product that can adapt to the needs of the market. We develop faultless mobile solutions and are ready to join our clients' developer team to empower and speed up the coding process.
HIRE QUALIFIED IOS DEVELOPERS TEAM
As a native iOS app development services provider, we offer our clients a dedicated format of work. If you want to make a site-based application or create a corporate iOS app for your business, our team is ready to join your project.
PORT ANDROID APP TO IOS
Contact our team if you have an Android application and require an iOS one. Do not hire a specialist to the team, but connect a remote iOS app developer under request.
Why choose Weelorum as the iOS mobile app development company
Weelorum knows how to make reliable technology apps for iOS. We have extensive experience and unique expertise in working with iOS devices. We know how to overcome common problems and create a market-winning app.
iOS-centered development team
In the many years of our work, we have assembled a team of professional and responsible developers. These people can make tough decisions and suggest corrections for the development plans. They have an analytical mindset and a desire to develop.
Regular projects updates
At the beginning of cooperation, we create a list of tasks with the amount of work in Jira. We give clients access to a Jira board where they can see the progress of tasks and a detailed sprint report page with various progress charts.
Costs and integration with other devices issues
In the process of iOS software development, we are also working on compatibility between different devices. For this, we rely on the iOS technology stack and our development experience.
Nuances of app launch and promotion
As a native iOS app development services company, we have faced a lot of challenges. This allowed us to create unique solutions and simplify the process of developing, entering the app store, and promoting the application.
Less time for QA testing
Our team knows all Apple device standards. We made our own easy and quick testing system and use this knowledge to hasten app updates & launch.
Cutting-edge technologies
We integrate varieties of modern solutions into the apps: IoT development, and ML & AI. Automate certain functions of your app and make users keep on coming back.
Main steps of the workflow
Weelorum wants to make your app better than your competitors. That is why we devote time to the discovery stage. We believe that deep research of our partner's business and the industry market will help us create an app that users will use.
Furthermore, we offer full-stack development and all the most common native iOS app development services. We back the project from the discovery stage to post-launch support.
Evaluation and approval
When evaluating, we create a backlog of tasks. We present it to our client to show the scope of work is based on the work hours in the assessment.
Tasks planning
We create a development roadmap by dividing all tasks into sprints. We give our clients access to Jira, where they can track the project's progress.
Development & QA testing
We start the development process and, at the end of each sprint, test the software we've created. In this way, the client gets an MVP of the first sprint at the end of the second sprint.
UI & UX design
When the app is ready, we proceed with the design and create a user-friendly and convenient interface.
Product launch & analytics
We use our experience to help clients launch their products and set up analytics. We also offer updates based on the market & users' data
Updating & scaling
When the app is launched and works successfully, we help with updates and scaling.
Technologies we use
Swift
Objective-C
RxSwift
MVVM
Alamofire
RxCocoa
SwiftUI
UIkit
WHAT PARTNERS
SAY ABOUT US
YBC Music
We've been cooperating with Weelorum for 4 years already and continue improving our application. At first, we were impressed with their development approach and tech expertise but then, communication, problem-solving and project cate became their strongest points. Weelorum provides all the explanations to the technical questions and this made it easy to cooperate with them. Thanks for the amazing app and all the work you've put in!

Marketing lead
Shaun Williams
DigiProduct
Weelorum team has become a great partner for us during the last couple of years and together, we were able to deliver high-level software to our clients. All of their engineers have deep knowledge of mobile development architecture and they can cope with any kind of task. We worked on several projects, some of them were really complicated but still, they were able to successfully complete them and bring a lot of value to our end clients.

CEO and Founder
Natasha Shukin
Live Colony
We started our work with a small task but we decided to continue our collaboration because I recognize a potential. The development quality and result-oriented approach made Weelorum a great fit for further projects and in total, we've been cooperating for more than 3 years already. I consider them to be great experts in the mobile app development area and they do an excellent work with analytics and app enhancements. It was a pleasure working with them.
CEO and Founder
John M.
MATSUKO
Weelorum successfully and promptly fulfilled the project scope — they delivered quality outputs, updated the designs, and discovered bugs. Their project management style and communication were convenient, flexible, and responsive. Overall, their professional approach and positive attitude stood out.

Product Manager
Andrew Deegan
Jon D. Rock Inc.
Weelorum has successfully released the final app in just three months. Professional and collaborative, they work efficiently and are proactive in seeking input and incorporating feedback from the client. Their transparency, patience, approachability, and can-do attitude make them stand out.

Founder & CEO
Carlos G. Amador
Custom Surgical GmbH
Weelorum has successfully launched within three months. The team has worked hard to improve the platform's designs, UX, and customer retention. They are calm and have handled the requirement definition with a practical approach. Their adequate resources are critical to the project's success.

Chief Technology Officer
Fernando Benito Abad
FAQ
What iOS challenges do you solve?
Our iOS programmers keep track of updates and system requirements. We deal with issues such as:
– cross-device compatibility,
– memory limitations,
– battery consumption,
– network speed.

Our experience and knowledge of international work quality standards allow us to cope with all this. We can quickly and accurately solve problems for any iOS version and device.
What should you keep in mind when choosing an iOS app
development company?
When picking an application developer for your startup, pay attention to the cases, reviews on external resources, and the technologies they work with. It is also important to understand the business principles of your future contractor.

Weelorum has a systematic approach. Our main goal is to make sure that your application is in demand. We are focusing on application development and improving our skills in this direction.
How can custom iOS app development services guarantee that
users will not delete your app?
In matters of popularity among app users, development decides a lot. We offer custom solutions created specifically for the needs of users.