Looking for detailed information on how to create photo-sharing apps like Instagram? Here we provide information intended as an introduction to small business owners, large corporations, startups with brilliant ideas, or companies looking to expand their potential. No matter how big your intentions are, an app for posting pictures is a massive opportunity for everyone.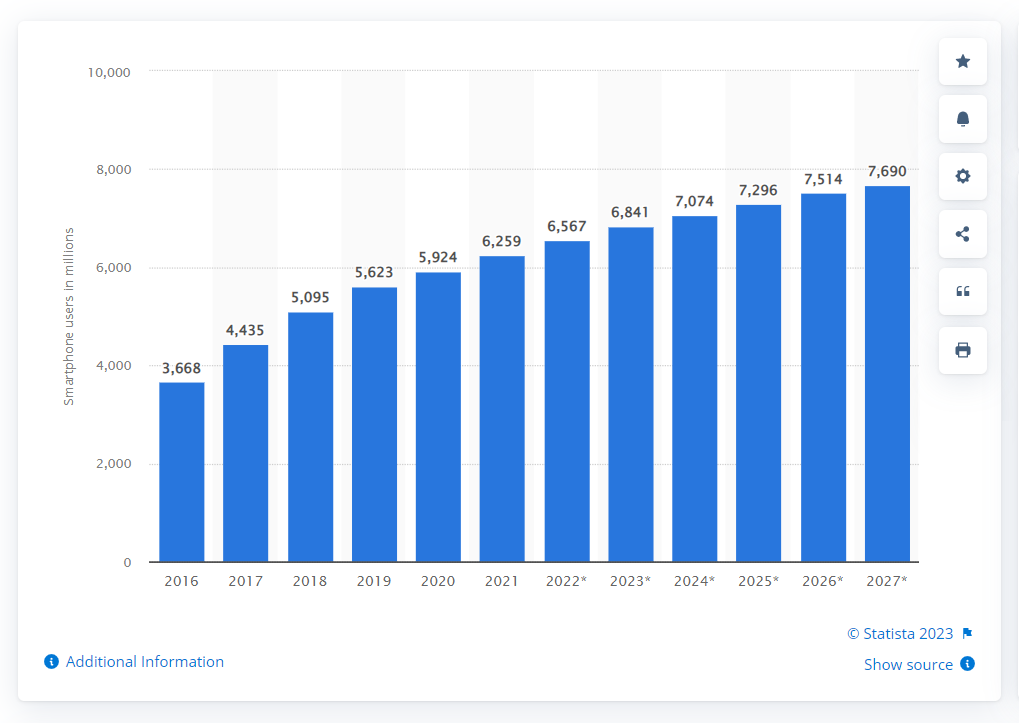 Just look at the statistics that forecast how the number of smartphone app subscribers will grow to 2027. That is, by 2022, there will be more than 6 billion people with a smartphone subscribed to at least one application. Among all these users, some will be interested in your social media photo-sharing app.
Of course, building a photo-sharing app like Instagram could be a long, complicated, and painstaking job. It may take a lot of effort and investment of money from you to occupy a niche in modern society. But don't let that stop you, as Weelorum is ready to help you. First, we will provide you with knowledge on this topic, and then with confidence to create the application for posting photos that will find its potential customers.
Looking for someone who can create an app for posting pictures for you?
Weelorum applies the best mobile app development models to implement simple and crazy ideas.
Contact us
Photo-Sharing App: Do You Correctly Understand What This Is ?
A photo-sharing app is a software that runs on mobile devices and allows users to publish, edit and share photos. For the user, you give the opportunity to express themselves, and for you, this is a way to build a business with the involvement of advertising companies. For example, Instagram has $20 billion in revenue from advertising alone.
Why is social media photo app popular?
"Simple and clear" — these two words describe the popularity of any photo-posting app. An intuitive interface and a minimum number of actions for posting will attract new users who will stay with you for a long time. Before creating a popular photo-posting app, look at Instagram's exclusive features.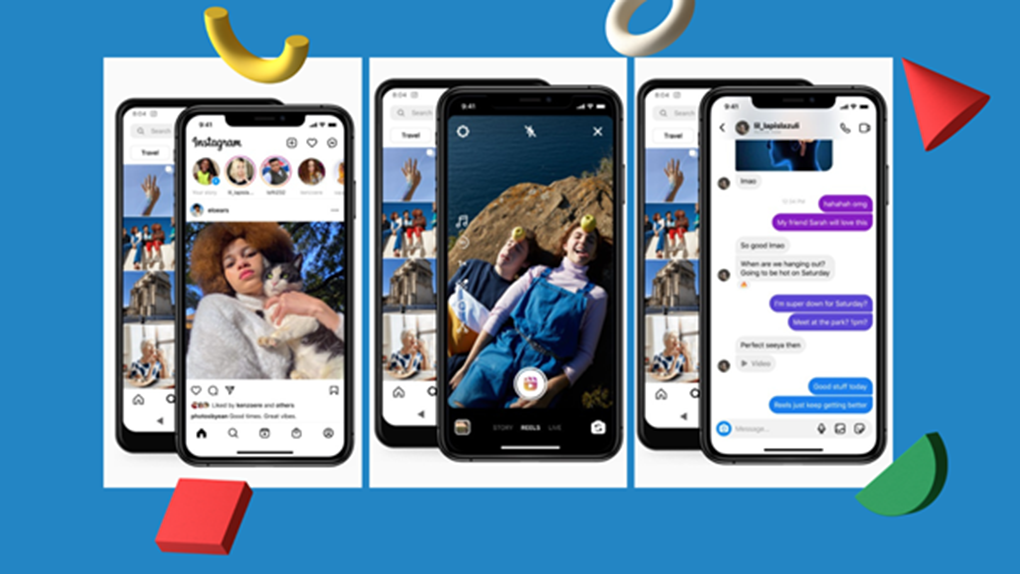 Live digital content. That is, these are photo effects with the help of which the image comes to life.
Convert a snapshot to a mini video. Allow creating a dynamic picture with only one click.
You are in real-time. Users can start live broadcasts and leave comments and reactions.
Stories. Let users share short videos of their lives and create a 24-hour story of their everyday life.
Direct messages. For a social media picture app, talking to each other is what keeps users engaged.
Is It Relevant to Create a Photo-Sharing App These Days?
Do not think such a phenomenon as Instagram limits your possibilities to create an app to post pictures. Its most vital marketing strategies have made the name well-known and recognizable. We assure you that such a seemingly perfect social media app for posting pictures has its drawbacks. Here are a few of them:
Technical shortcomings. Yes, Instagram has a high rating among apps, but if you read user reviews, you will find dissatisfaction on many points. Technical flaws play a decisive role in using a social media app to post pictures.
Negative mental health outcomes. Some users have faced devastating mental health consequences of using Instagram.
Content copyright. Instagram cannot protect the copyright of quality content creators.
If you want to know more about how mobile apps are created, read our article — Mobile Application Development Process.
Take a step and become an Instagram competitor
Click the button and submit a request to learn how to make an Insta-style
photo-posting app
Contact us
Key Features Your Photo-Sharing App Must Have to be Successful
Add some extra features to your future photo-sharing app development to become a worthy competitor. You will succeed if you follow the rules for creating mobile software and implement the necessary usability parameters.
Authorization
A social network such as photo sharing should include a login feature. Invite users to sign in to the application in three known ways:
by phone number or email;
through Facebook, Google, or other social network accounts;
face or fingerprint authentication login, such as Face ID or Touch ID.
Editing a profile
After registering in the application, the user must enter the Personal Account. All personal data about the user is stored here. Please note, that this section should be editable in case of changes or additions to personal information.
Create a post
It would be strange for a photo and video-sharing app not to be able to publish this. After all, users want to share their vivid impressions and emotions through images captured on camera. Please note that the post is supported by the ability to like and comment. Allow users to leave reviews under posts.
Feeds
Subscription posts feed new subscriptions, comments, and likes. Create a convenient way for users to see updates on their friends and subscriptions.
Editing
By adding the image editing function, you show the user that the world is not as gloomy as it seems at first glance. Only some people want to see themselves as it is, while most prefer a flawless version of themselves. Let users edit through filters, perspective, color, and contrast adjustments.
Interaction with social networks
Invite a friend from another social network or repost a photo. You will give an opportunity for the user to share his content easily and, at the same time, attract new people to your app. It's a win-win situation.
Geolocation
Marking the place where the photo was taken is one of the important features of the photo-sharing application. Someone shares their impressions while spending a vacation on the beach, and someone drinks delicious coffee on the terrace of their favorite café. Each place has its own location on the map, so integrate your social network with Google Maps or other mapping services.
Message exchange
If you wonder how to create picture-posting apps and make them popular and engaging, add personal text messages, stickers, and graphics to the app. Those functions are must-haves if you want your application to be competitive on the market.
Notifications
Add a choice of alerts to the left message or like. Setting modes: silent, vibration, cancel. Attract and return your users through push notifications. Only such messages should be of interest to the user. There are many algorithms that can analyze people's behavior and understand their interests.
Search
Search string by name, alias, description, and tag. Filtering by search phrases will help users find the content of interest, a follower, or a friend's account.
Phases of Social Media Photo-Sharing App Development
At this stage, you have the main thing — the idea, but you should still think through social media photo-sharing app development. Now, it is worth understanding that this path is not easy and could be thorny. Keep in mind that you must have nerves of steel and endurance to wait for success.
First, decide on the name, and think over the functionality and interface. You can also read more about the role of a discovery phase in application development on our site.
After those first steps have been taken, let's figure out how to develop a picture-posting app.
Market Analysis
Almost half of the success of any application is the collection and analysis of data. As a result, you will receive a detailed strategy and well-thought action plan. Market analysis should be based on two questions: "What is the user waiting for?" and "Why are some applications at the top while others are not?"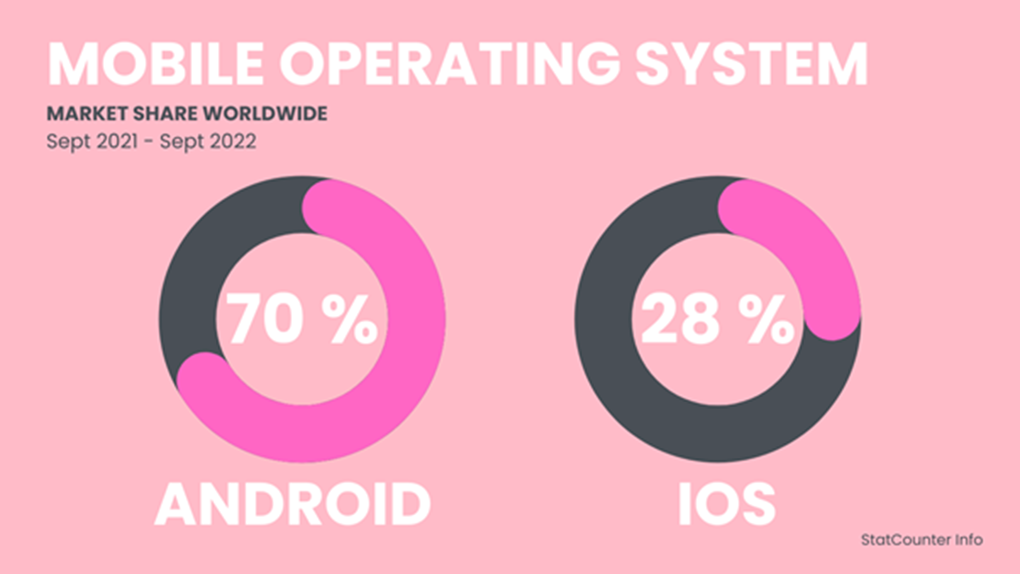 Development of an MVP
The prototype of the future program will allow you to determine what exactly your software lacks and what you should pay attention to. Therefore, MVP development is an opportunity to create an application for posting photos with the main functionality and look at how people will react to this.
We advise you to contact Weelorum specialists for MVP development. Our experts know their business and have experience developing this and other types of software. This service is worth the trouble, as it will pay off and bring positive feedback to your business.
Marketing
Without valid promotion, your app won't become popular. In addition, you need to incorporate a marketing strategy into your business plan. The advertising company should be created a few months before your app's release date for posting photos.
Modern Design
How do you make an app for posting pictures with a unique design that will help users navigate through your application? Do not overload the appearance with unnecessary details, and follow the trends. The outdated design of the application won't give your users any nostalgic feelings but rather scare them away.
Unique Functionality and Features
Offer customers unusual ideas and exclusive features of your software. Think about what exactly you want to offer that is different from popular competitors. Use your imagination and creativity. Who knows what's on your mind?
Testing
You should test your application before launching it so that it wouldn't fail. Only testers can determine your solution's performance and speed and how well the app works.
Launching the Application
The entire application has been created. Now show it to the world. Come up with an official release of the photo-sharing app so that users can notice it and your app won't pass them by.
Don't take risks — trust the pros from Weelorum!
We bring impossible projects to life based on development experience
Contact us
The Major Contrast Between Android And IOS Photo Posting Apps
Experienced programmers will immediately say that the development of a mobile application for Android and IOS is significantly different. It seems to be a similar code architecture, but in reality, there are many differences both in the backend development and marketing strategy.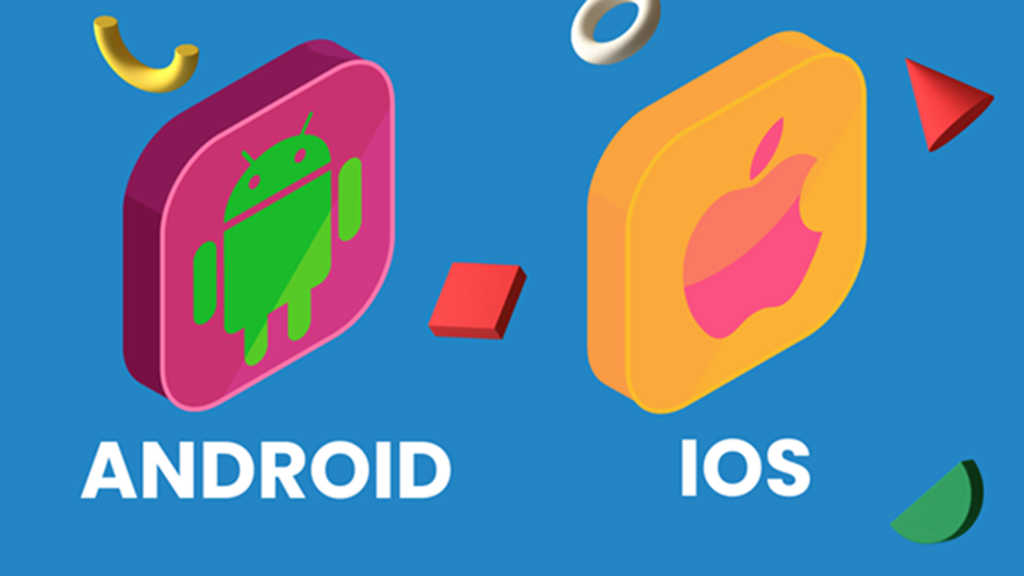 Programming languages
​​How do you build a photo-sharing app for Android and iOS? Operating systems are based on different stacks. iOS uses Swift coding, which was created specifically for Apple applications. While Android supports the Java language. Today, it is more convenient for a developer to create photo-sharing apps for iOS, as it is easier and faster to write. However, Android users are a significant part of the mobile audience, so it wouldn't be wise to neglect them. Besides, a programming language, Kotlin, was created specifically for android app development, making life easier for mobile developers.
Determine which region your app is for. What percentage of users prefer Android and iOS? This will make it easier to start developing the application.
Design Architecture
The question may arise, how do you create an app for posting pictures for iOS and Android in terms of design? The iOS application architecture is based on a single XML file, which increases development speed. For Android, each screen is created separately, which is why it is necessary to adhere to a single development logic and keep dozens of actions under control.
Complexity of Development
Android Studio and XCode are good platforms if you are wondering how to develop an app for posting pictures. Differences that are significant at first glance will not affect the final result in any way. It all depends on the skills and preferences of the programmer and which environment they prefer. Some people like the flexible Gradle system, while others are more comfortable working in the Xcode source code editor.
How to Create an App for Posting Pictures and Make It Popular
Let's look at how to create an app for posting pictures on the example of the popular Google Photos. The basis for this is the (UX) user experience.
Consent notice
The user must know why access to his data (gallery, contacts, etc.) is required. For the correct operation of the application, use only those necessary areas and provide information about each action. This increases trust and loyalty to your application.
Sharing
Provide choice of creation of album categories and how publications can be shared. When publications are divided into topics, it is easier for the user to share and pin photos with others. Simple at first glance, cataloging simplifies interactions between subscribers and accounts. For example, Pinterest offers to create the Interesting board, and Instagram has introduced hashtags and Actual. More views motivate users to use the app.
Action buttons
Use a single action button for your app and feature activation. Adhere to the requirements for size, appearance, and acceptable use of the button. Also, a call to action is the first step in reminding you. The next step is to create a strategy for proper user engagement. Use unusual motivating phrases for the Go to, create attractive banners, and motivate with unique offers. You can also gain popularity this way.
Voice assistant
Voice control may be the primary offer from you. How many similar photo-sharing apps have you seen with this feature? But it's very convenient. Send a photo, leave a comment, delete a message or listen to it. There are a lot of possibilities with a voice assistant. You just have to think about how to implement it.
Develop Your Own Photo-Sharing Application with Weelorum
Weelorum is a full-cycle mobile application development company for startup projects. Our developers use a personal approach to each client and create unique, scalable solutions. Our experts have experience creating products for more than ten business niches. We provide you with the best team of engineers to implement all your ideas and even advise you on how to do better in your particular case.
Why should you choose Weelorum for creating your photo-sharing app? We have experience working with different cases, and one of them is the development of a Photo Copy app. This app allows you to plan your photo trip without leaving your home, mark beautiful locations in advance, create your own photo tour stories on the navigation map, and much more. So, if you don't want to regret the team you chose for the creation of an app for posting pictures, reach out to us now.
Get the best application development team
With Weelorum, you'll get a universal approach to creating your product
Contact us
Final Thoughts
In a nutshell, if you want your own photo posting app, the possibilities are endless. It all depends on your idea and uniqueness. What exactly and for whom do you want to create software? We recommend you not wonder how to create photo-sharing apps by yourself and contact Weelorum. Our experts have created dozens of apps for iOS and Android.
Can't wait to create a unique photo publishing product? Do not postpone your plans for tomorrow, and order a consultation to discuss your project!
FAQ
What is a social media photo-sharing app?
It is mobile software designed to post, store, edit, and share  photos. Now, almost everyone can capture the moments of their lives through the mobile phone camera, and with these applications, you can share those moments with the world.
How do I make my photo posting app popular?
A marketing strategy or marketing plan is responsible for the popularity of your photo-posting app. Developing your application is only halfway . You must apply all promotion channels and spare no expense. Advertise, let word-of-mouth do their work, and collect reviews and ratings.
How much does it cost to create a photo-sharing app?
The price for photo-sharing app development will vary greatly, depending on the number of features you want to have. Also, the location of your development team significantly affects the price, as the hourly rate for US developers is usually much higher than those from Europe. However, let's take an average price for the developer's team as $35 per hour (European developers) and the number of features that Instagram has. The  development cost of such an app will be around $85,000.