Today, if you want to find your soul mates or communicate with like-minded people, you don't have to meet them in person. Social media have become a universal virtual venue for you to get in touch with other birds of the same feather and share opinions and experiences. However busy you might be, you still can find at least an hour a day to spend on social media.
Average daily time spent by users worldwide on mobile social media apps from October 2020 to March 2021, by age group (in minutes)
The availability of social media has grown immensely with the across-the-board advent of smartphones, where you can install a social media app, access your account on Facebook or Instagram, and enjoy all amenities the social network offers. Let's see the latest fashion in this niche.
The Most Important Social Media Trends in 2023
As a long-time expert in providing end-to-end application development services, Weelorum knows what users look for in a social media app.
Machine Learning and Artificial Intelligence
These technologies are gathering an ever-increasing momentum in multiple IT-powered domains, and social media are no exception. Visual recognition, network recommendations, spam content filtering, and fake news detection are only a few use cases that app creators find for AI and ML in their social media products.
Short-Lived Content
As opposed to the so-called evergreen content that stays on the internet forever, these posts, videos, and images are scheduled to vanish from the web page after a short while (a day or even an hour). It ushers the air of intimacy, urgency, and a certain degree of privacy that social media users appreciate so much.
Visual over Textual
Texts take too long to read and even longer to write. That is why contemporary people increasingly communicate using images, videos, and emojis.
Consumer spending on photo and video mobile apps in the United States from 1st quarter 2019 to 2nd quarter 2021 (in million U.S. dollars)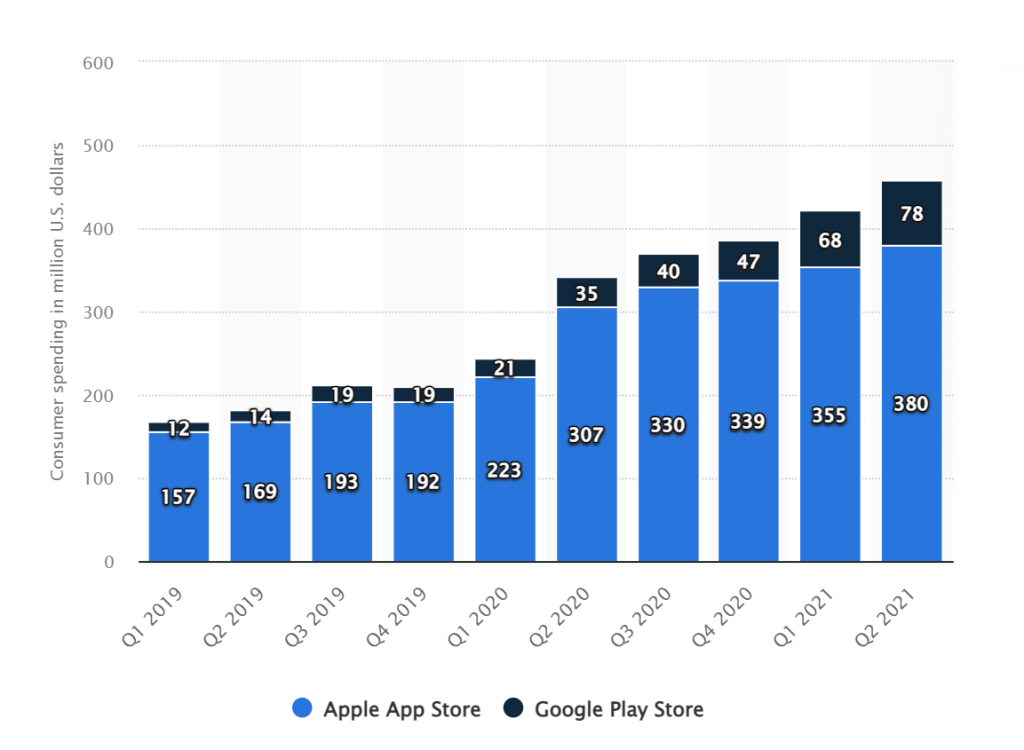 Moreover, pictures can tell followers more about places you visited, views you enjoyed, the food you tasted, or people you met. These considerations prioritize corresponding tools in regular social media apps and make image-sharing apps stand out among similar products in this realm.
Picture-Sharing Social Media Apps Like Instagram or BeReal
'I want a photo-sharing app like Instagram' — the first thing most developers hear when a company has an idea of creating a social-media app. But there are so many alternatives on the market — for example, BeReal. This social photo app is only three years old, but it has gained significant traction among social media fans. Once a day, it sends a random notification to the smartphone, reminding its owner to post a picture of what they are doing at the moment. Unlike a simple photo editing app, BeReal encourages people to upload unfiltered pictures reflecting their experience and focuses on the real-time authenticity of photos. Thus, it aligns with two trends symptomatic of modern social media apps — short-lived content and visual over textual.
Sounds like a great idea worth emulating? It does. But before you embark on an attempt to build your own social photo-sharing app like BeReal, it is necessary to know your competitors in the niche (besides Instagram).
Google Photos
It boasts over 1 billion user audience, and one can't expect less from a member of the Google ecosystem. It employs AI- and ML-driven tools to analyze your photos, videos, and presentations and discover places you like, products you prefer, etc. This data is utilized to offer users recommendations, ads, and marketing materials. Besides, you can sort the content of your storage into various categories, create collections, transform photos into GIFs, edit videos, and more.
Snapchat
This is one of the leaders in the category, whose popularity lately has manifested a spike, especially outside its traditional terrain in North America and Europe.
Number of daily active Snapchat users from 1st quarter 2014 to 4th quarter 2022, by region
(in millions)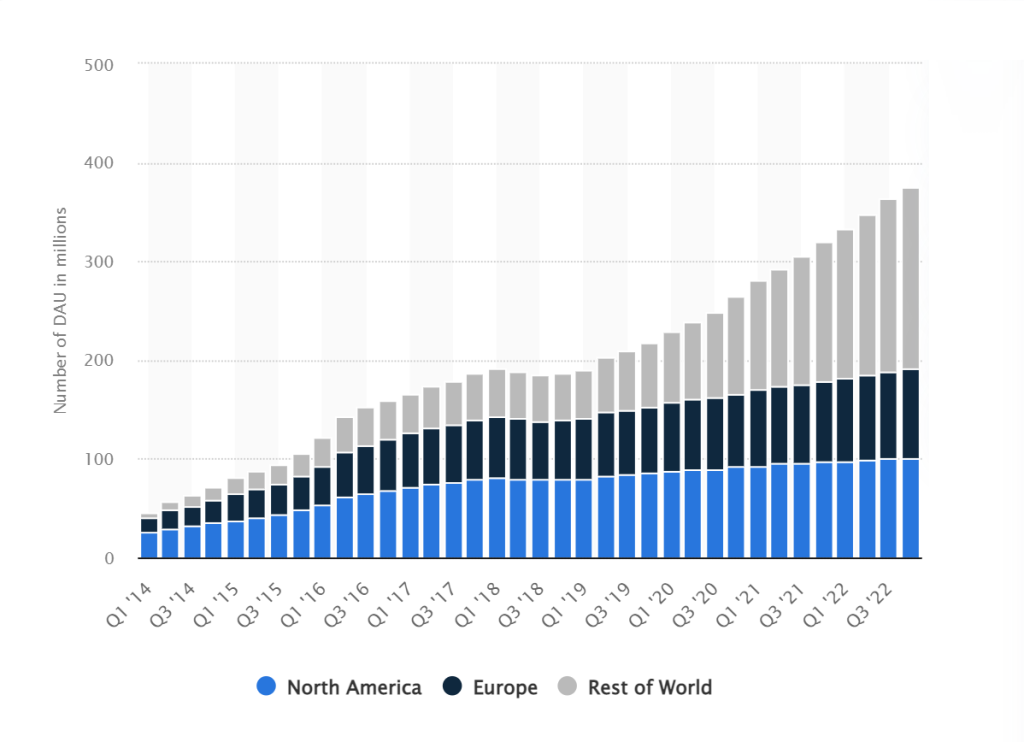 Just within a year, Snapchat has almost doubled its revenues, that in 2021 reached an astounding $4.11 billion. Having started small, it has evolved into a full-fledged photo social media app with geofilters, discoveries, lenses, and even Shazam integration. The story feature, which is a classic example of ephemeral content universally known thanks to Instagram, has originated from Snapchat. Besides, the app enables photo sharing and enhancement, and chatting.
VSCO
While Google Photos and Snapchat suit anyone with smartphones, VSCO is oriented toward professional photographers and high-quality pictures. It has an impressive app design, powerful capabilities (especially filters), superb creative tools, impressive presets, and educational data. But what lets this popular photo-sharing app stand out among rivals is its hashtags and captions.
Pinterest
If you decide to build a photo app like BeReal, you may adopt the Pinterest way. It also has tons of photos, recipes, nature masterpieces, and lookbooks. But here, images are segmented not according to users but topic-wise. Such an organization makes Pinterest an excellent bank of clues for design concepts, wedding ideas, or other specialized niches.
Want to create your own photo-sharing app?
Choose a Ukrainian IT vendor as your trusted partner and get a top-notch product for a good price.
Contact us
When you want to develop an app like BeReal, it is important to identify the roster of functionalities it is going to have.
Features of an App Like BeReal Exposed
What are the must-have features you should implement in the product when you make a social media app like BeReal?
Signup & Sign In
To meet users halfway, you should offer them the option of signing up via an email, a phone number, or by filling out a sign-in form and creating their personal profile.
Camera
How to build a photo-sharing app like BeReal without involving both the back and the selfie camera? Right, you can't do without it. It is done by connecting the phone's camera API with the app.
Discovery
This feature enables people to share their pictures and find out what other members of your network are doing.
Feed
In BeReal, it is the "My Friends" tab that allows the feed to display only the pictures posted by your friends or people you follow. You will need something similar in your app.
Offer Challenges
The name speaks for itself. By offering challenges to the audience, users can augment creativity and step up their networking skills.
Comments
Using it, people discuss pictures and chat with their friends.
Send Real Emoji
Instead of texts, you can send emojis as a reaction to photos or messages from friends.
Find Memories
If there is a recorded history by other users, you can employ this feature to access all previous memories to savor them again.
Settings
To make the user experience more comfortable, you should allow people to customize the app according to their own tastes and preferences. Options should include the choice of the language they want to use, the alerts they like to get, personal data they agree to reveal, etc.
Simultaneous Posting
This capability is meant to launch a posting party where all guests can participate in the conversation.
Push Notifications
In case someone liked their photos, commented on them, mentioned the user, or sent an add request, people will at once be updated on it.
Now that you know what to aim for, you can get to the app development itself.
How to Create an App Like BeReal: A Step-by-Step Roadmap
Our experience in building IT products for different industries and use cases allowed us to come up with a foolproof algorithm that includes the following our stages of mobile app development.
1. Market Research and Finding Ideas
First, you must tap the market and discover your user audience as well as gauge their interests, preferences, habits, and pain points. To find out whether your idea holds water, you should build a minimum viable product and test how consumers like it. If their feedback is encouraging, you can invest in the project heavily and finally make an app like BeReal.
2. Hire an App Development Vendor
Recruiting a seasoned and reliable IT firm is vital for successful app development. They will determine the team necessary to create an app like BeReal. As a rule, such crews consist of an iOS or Android developer, a front-end expert, a back-end engineer, a UI designer, a QA expert, and a project manager.
3. Create UX/UI
To become popular among consumers, your future app must have an appealing look and seamless usability. User-friendly interface and foolproof navigation are the two summands of success in producing an app that everybody will enjoy.
4. Work Around Features and API
The attractive appearance of the app won't get you far if its functioning is substandard. That is why you should pay serious attention to the development of all capabilities and creating APIs that would allow third-party integrations your app needs.
5. Testing
Before releasing the app to be used by the public, you should test it thoroughly and make sure no bugs hamstring its functioning, and it operates as expected.
6. Release Your App
When you are convinced that the app is up to the mark, you can deploy it in Google Play or App Store.
7. Post Release Support
Mobile application support services are an essential part of the package extended by a responsible IT vendor, whose specialists will monitor the app's operation and provide advice or assistance if the app owner or its users require them.
One of the mission-critical aspects of photo-sharing social app creation is identifying the technology stack you will need in your work.
What is the Tech Stack for a Picture Sharing App?
As a rule, specialists at Weelorum employ the following tools and frameworks for developing apps like BeReal.
| | |
| --- | --- |
| Back end | AWS |
| Server-side | Kubernetes, Node.js, and PostgreSQL |
| Platform | Native |
| Programming language for iOS | Swift |
| Programming language for Android | Kotlin |
Now you seem to be ready to plunge headfirst into app creation. No, wait a moment! One last thing: you should come to grips with the costs of creating an app like BeReal.
Estimating the Cost of Creating an App Like BeReal
Don't know how to estimate mobile app development costs? The rule of thumb is to consider two factors.
The first is the number of working hours the developers need to implement your project. Naturally, each app is unique, so precise calculation is possible only when you know all the details and the features you are going to create. While trying to determine the cost of development, you have to split the whole process into three stages. The preliminary stage of discovery and research lasts 280 hours, the final phase of testing and launching is a bit shorter (around 240 hours), while the core development stage requires the longest time to accomplish (approximately 640 hours).
The second summand to take into account is hourly rates charged by vendors. The highest indices are those of North American and Western European companies (generally, $100 per hour and more). The development services of South Asian developers are the most affordable (around $20), yet being penny-wise, you may turn out to be pound-foolish since the quality and delivery time there are often questionable. The wisest option is to hire IT experts from Eastern Europe (Ukraine, Poland, or Romania), where you are sure to enjoy the most optimal price/quality ratio.
Want to plan your budget for the project?
Get in touch with us now, and we will tell you the cost of creating an app you like.
Contact us
Consider Weelorum Your Trusted Partner
Located in Ukraine and thus charging moderate prices, Weelorum makes it a point to apply the skills and experience of its staff to make the most of developing both Android– and iOS-powered apps for companies in various industries. The guiding principles we maintain in our work are:
Success orientation. Our specialists have the necessary qualification to choose the tech stack that suits the project to a tee and leads to delivering a responsive, high-performance solution.
Quality comes first. We always thoroughly follow this principle as, for us, the quality of the product is the topmost consideration, however complex the project might be.
Enhancing the original concept. Once you approach us with an offbeat idea, we will do our best to improve the initial scheme. Our goal is to create a top-notch and highly competitive product that will stand out among competitors in the niche.
If you enlist our services, you are sure to obtain a first-rate solution with an attractive design that will manifest seamless functioning. A photo-sharing social media app of your dream is within easy reach. Contact us to make your dream come true.
Conclusion
BeReal is one of the trailblazers in the realm of picture-sharing social media apps, whose success invites entrepreneurs to follow their example and create products of this type. To build a top-notch photo-sharing app, you should study the approach of your rivals in the niche, pay attention to the major trends of app development, determine the roster of necessary features for the solution you aim to obtain, map out the algorithm of your work, choose the appropriate tech stack, and partner with a reliable IT vendor.
FAQ
How to Create Your Own Social Photo-Sharing App Like BeReal?
When creating a mobile app like BeReal, you should determine the target audience and market niche for your future product, draw a roadmap for its development, opt for the proper tech stack, and find an IT company that will implement your project at an affordable price.
Why is BeReal Popular?
It allows people to let others follow their life in real-time and share their own authentic experiences by posting unfiltered photos and thus adding a realistic tinge to their digital diary.
What Are the Features of an App Like BeReal?
The roster of must-have capabilities of such an app embraces signup & sign-in, camera, discovery, feed, sending comments and emojis, offering challenges, finding memories, simultaneous posting, push notifications, and settings customization.
How Much Does It Cost to Develop an App Like BeReal?
The cost of creating an app like BeReal is conditioned by the number of working hours developers need to build it and the hourly rate they charge for their services. The exact price is unique for every project and vendor, but an estimated price is $30,000-$60,000.