The market of dating apps is developing: in 2022, these apps earned $3.72 billion in revenue. The income is anticipated to surpass $5 billion by 2025, with predictions circling $5.71 billion.
In this article, we've explored how much money dating apps make and compiled a list of the most well-liked methods for dating applications to monetize. We also added a few examples of companies that have already put these monetization approaches into practice, expanded their audience, and improved their dating app revenue model.
How Do the Leading Dating Apps Make Money?
Once you have the idea for a dating app, you must establish its business plan and the means of generating revenue from it. The monetization strategy you select will have an impact on even the development process because it requires appropriate features and an administrator interface to work. It also details how dating apps make money from potential clients.
Below are examples of the top three dating websites and how they earn with their apps.
● Tinder
Tinder is a location-based social search mobile app (using Facebook) that facilitates communication between mutually interested users, allowing matched users to chat. Tinder's business model has a unique selling proposition of connecting users with strangers that they wouldn't have normally met, rather than connecting with people a user already knew. But still, it isn't clear how Tinder makes money. It has one of those business models based on subscriptions. There's a free app under the Tinder Basic Model and a paid membership under the Tinder Plus, Tinder Gold, and Tinder Platinum Models.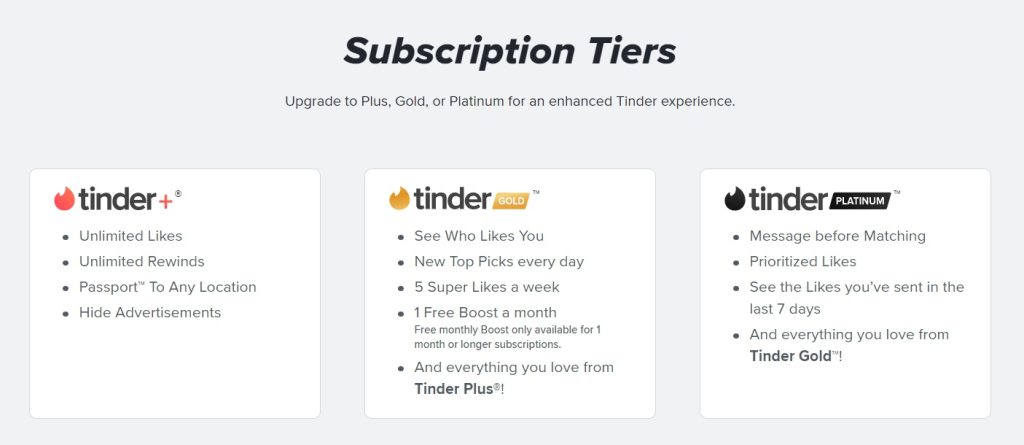 Other ways to monetize a dating app include smartly camouflaged sponsored content to make it look less intruding, which brings them money and yet doesn't irritate users; and a paid feature, Boost, that makes the user's profile the top profile in the area for 30 minutes.
● Bumble
Bumble is a free dating app to download and use its primary features, like matchmaking and messaging.
Bumble makes money using three strategies:
Freemium model.
Paid subscription (Bumble Boost).
In-app purchases for advanced features.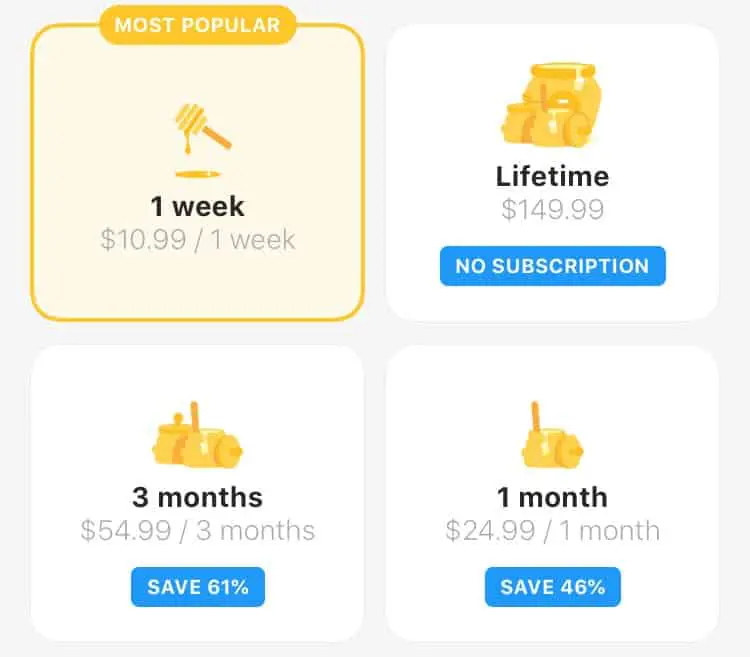 You can switch between Date, BFF, and Buzz modes and have different accounts for each. Bumble Coins is also an in-app currency for purchasing additional features like "Spotlight" or "SuperSwiping."
● Hinge
Hinge is a dating app that claims to be the only dating app that emphasizes long-term connections between users.It uses different channels to make money from a dating app. The main methods are Preferred Membership and Boosts. The free subscription has certain limitations that are unlocked with a Preferred Membership subscription.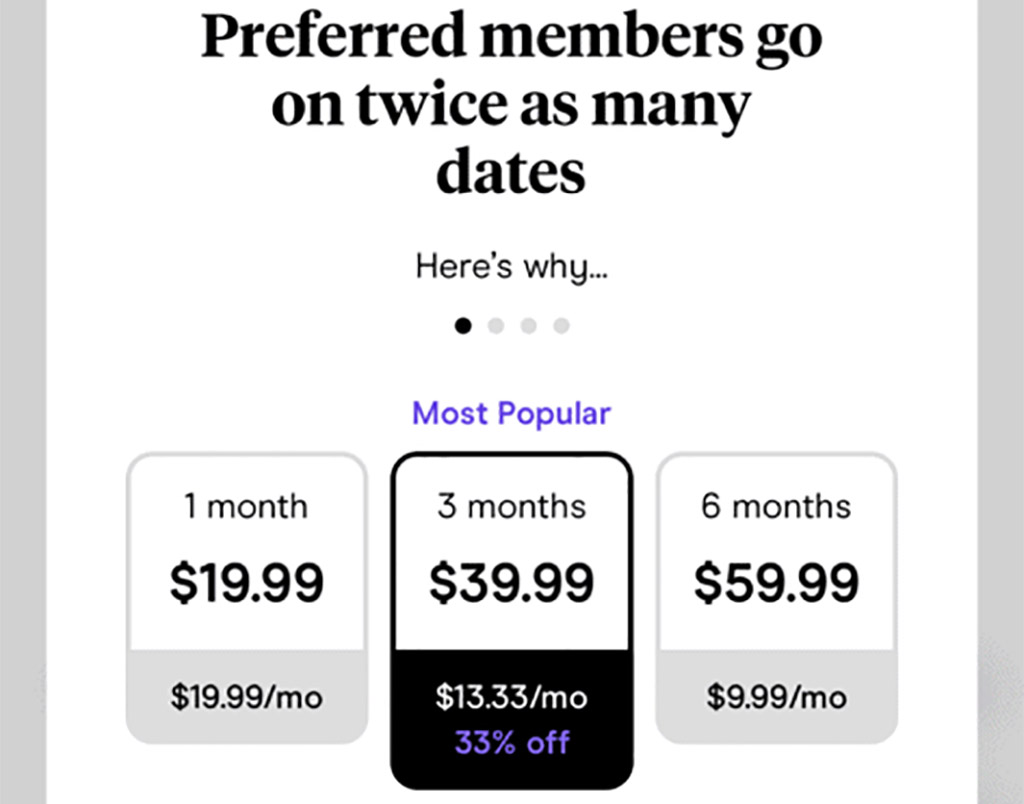 Benefit from a company with 10+ years of experience
Contact us now, and create your own unique and profitable solution.
Contact us
How to Make Money with Dating Apps: 12 Ways of Monetization
The best way to generate revenue is to think about providing value for users. Combine dating app monetization options with useful content to get the best results and maintain loyal relations with the app's audience.
N.B.: Your App might not be accepted if it doesn't offer sufficient and unique functionality or any kind of enduring entertainment value. The App Store marks such apps as Spam and doesn't let their upload, and therefore, no monetization will be possible. So when working on the dating app, make sure it's not just a full copy of the already existing ones.
1. Paid Subscription
Once the audience gets involved with the app community for free (like freemium revenue model), they are more likely to pay an extra fee to get more relevant matches and additional options pools. Users can access additional features like limitless texting or improved search filters after choosing an appropriate plan.
For example, there are many premium features available on Tinder, such as viewing who has liked your profile, swiping in other locations, etc.
2. Advertising on Dating Apps (AdSense)
When the app has a significant number of visitors, clicks, and impressions, a business can create a channel to make money by placing advertisements on its app. Google AdSense is among the most popular advertising platforms, as it makes it simple for developers to launch ads into their apps and monitor their effectiveness.
How do dating applications make money in such a way? For example, Badoo users can see ads by Coca-Cola, Spotify, L'Oréal, and many other brands. The ads are relevant and interesting since they are targeted to viewers depending on their location, gender, and age.
3. Affiliate Marketing
Affiliate marketing is one more way to make money from dating apps. It means recommending goods or services to the users of your app in return for a fee. For example, dating apps can advertise florists or gift stores for those who might be looking for a romantic gesture or present.
Match.com collaborates with Groupon, FTD, and Uber to provide customers with special offers and discounts on a particular range of services. Once Match.com users purchase those services, Match.com gets paid a small fee.
4. Virtual Gifting
Users can exchange virtual presents, such as virtual flowers or chocolates, that they buy for real money with one another; there also can be an app fee that will be deducted from the price. This can be a successful method of making money while also making an app enjoyable and playful — who doesn't want to "impress" a match with something nice?
Users of Zoosk can buy virtual gifts that can be sent to other users to show their interest and intentions.
5. In-App Purchases
Dating apps may also provide several in-app purchases, such as premium stickers or larger numbers of views, to allow users to express themselves. These goods can be offered for sale at a very low price, with a cut going to the app.
Bumble offers a variety of in-app purchases, including the option to buy more Bumble Coins, which can be used to access premium features like SuperSwipe and Spotlight.
6. Social Media and Content Partnerships
How to monetize a dating app through social media? In exchange for a fee, the app's social media account would advertise a product or service from an unrelated business to its followers. Since many dating apps invest significant quantities of money in boosting their presence on social media, this may be a credible source of income with added advantages.
Coffee Meets Bagel has partnered with a range of social media and content platforms, including Instagram and Spotify, to allow users to connect and share content with other users.
7. Expedited Profile Approval and Verification
Some companies make money on dating apps by not letting users sign up until their profiles are carefully checked; the procedure takes time and might end with a decline. Companies charge a fee for a quicker approval procedure. Similarly to that, users may pay to have their profiles verified, which promises increased exposure and better matches and makes them stand out from other users' profiles.
Hily offers an expedited profile approval service, which allows users to bypass the standard verification process and have their profile approved within 24 hours.
8. Rewarded Video Ads
This monetization way for a dating app is widely popular among all free apps, including dating ones. For watching video ads placed in the app, users can get something in return, like app coins, free customized emojis, etc. The business gets paid by those companies who are placing ads on the app. More views — higher the fee. This may be a useful method to monetize an app and still give users some value.
Grindr gives their users a choice to watch rewarded video ads and get in return extra features like the ability to see who has viewed their profile.
Maybe it will be your app that becomes a new phenomenon, like Tinder
Weelorum experts will help you on your way to success.
Contact us
9. Promotion of Sponsored Posts
Apps for dating can collaborate with businesses or brands to advertise their goods or services through sponsored posts. Think of this: a dating app collaboration with a restaurant — relevant ads of their Valentine's Day menu to people looking for date ideas and suggestions. Profit for business and gratitude from users.
Happn promotes through sponsored postings H&M, Netflix, Airbnb, and many other popular brands.
10. Personalized Coaching Service
Some of those who use dating apps might have problems with communication online and offline. So, they can be interested in some kind of aid with those skills through personal coaching. Or at least they want some appropriate advice on how to fill out dating profiles correctly, how to craft nice first messages with matches, and help with small talks. This service can be provided by dating apps for a fee, involving internal or external coaches.
The League's tailored coaching service provides such assistance for users with specific memberships.
11. Paid surveys
How does a dating app make money here? Market research companies need data analysis results for businesses, and dating apps have a wide multifaceted audience that can be perfect for such various surveys. Users get in-app bonuses for taking surveys, and the dating app company provides this data for marketing agencies.
Hinge has partnered with research firm Culture Co-Op to offer surveys to its users.
12. In-app upgrade
In-app purchases that give users access to more sophisticated search filters or move their account to the top of the search results page bring lots of money. In addition to giving users a tool to stand out and improve their likelihood of finding a connection, these upgrades give the app a crucial source of revenue.
Bumble and Tinder suggest in-app upgrades, like Boos, which allow users to increase their visibility and stand out among other users.
For more inspiring ideas, check out our article on mobile app development trends of 2023.
Consider Weelorum as Your Trusted Partner
Weelorum has put much effort into gaining the knowledge and experience to create efficient and appealing Android- and iOS-powered mobile apps for various businesses. We know how to overcome any problems and challenges of Android app development and how to build an effective and profitable solution using native or React Native technologies.
Weelorum has 35+ successful projects and 10+ years of experience, and we've created apps for different industries like music, entertainment, fintech, social media, etc.
Contact us if you want a superior dating app that can compete with the market giants, or want to implement new features to your existing solution to maximize dating app revenue.
FAQ
How do I increase engagement metrics in a dating app?
The best way to increase engagement in a dating app is by regularly improving mobile UI and UX design and releasing new features and updates that improve the user experience and keep users interested.
How do I identify the audience correctly for your dating app?
With market research and analysis of demographic data, you can clearly identify your target audience for your dating app. This allows you to create features and marketing strategies that cater to their specific needs and preferences.
What steps should I take to make money on my dating app?
Before creating the app, you should think about options for monetizing it. Once you start promoting the app, the first steps to make money on a dating app can be implementing a paid subscription model, displaying targeted ads, or offering in-app purchases.
What dating app business model should I choose?
In general, the business model types can be classified into two categories: free online dating app business model and paid online dating app business model. Based on whether your app is free for users or paid, you can choose the relevant monetization options; for example, a free app can't use a paid subscription option, so AdSense is more appropriate.