The subscription-based app, a model where users pay for access to the app, has been highly successful recently. The main benefits of subscription apps are revenue and an engaged audience. These metrics are growing by more than 4% annually in the media space alone. By the end of 2025, consumers will pay about $1.26 trillion for such services.
So now is an excellent time to consider implementing one of the three versions:
Freemium. The essential features of the app are free. Users have to pay to unlock additional ones or remove ads.
Fee for use. The app can be free to download, but users only have to pay to use it.
Pay to save. The app can be free, but subscribers get discounts on products and services.
Which option is better? At Weelorum, we implement bespoke mobile solutions fully tailored to our client's needs. This article will explain subscription-based apps' benefits and drawbacks so that you can make the right choice.
Maximize your opportunities with our help!
Contact us
7 Advantages of Apps with a Subscription-Based Revenue Model
So, why are such apps becoming attractive? For the following reasons:
Reliable recurring revenue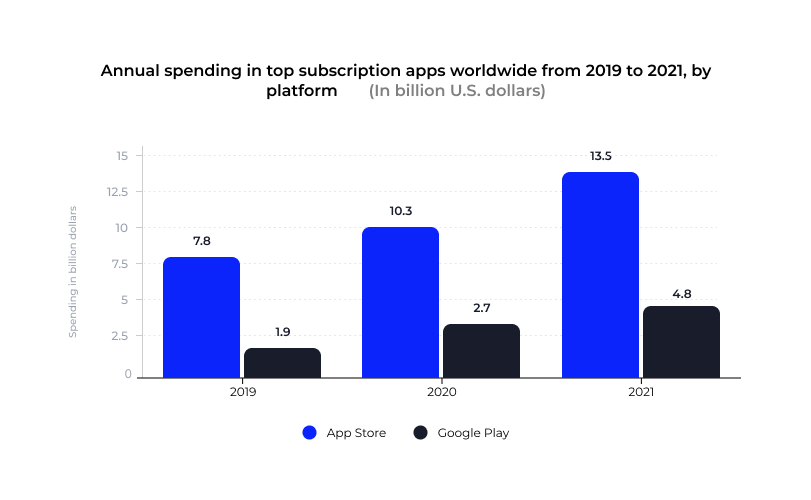 A steady cash flow is essential. The former usually generates more money per user when comparing subscription apps vs. fee-based ones. According to subscription-based app statistics, in 2021 alone, the global user spending on the most popular subscription-based apps will be $18.3 billion.
Thanks to the nature of subscription-based apps, it is possible to forecast revenues and allocate costs. When you know the number of subscribers, sales become predictable.
Customized pricing plans and discounts establish a trusting relationship with customers. It helps to personalize products better and motivate purchases, making it easier to plan marketing efforts.
Increased customer loyalty & solid customer base
Minimum advertising is attractive, making building long-term relationships with subscription buyers easier. With a paid subscription, you can focus on users who feel essential to your brand and spend less time referring new customers, especially if existing ones are getting everything they need on demand.
Reduced churn & better users retention
When subscriptions are automatically renewed, it reduces risk. And that's one of the essential benefits of subscription-based apps.
Customers stay with you for longer, increasing retention rates. Keeping them informed about new features helps improve their personal user experience. You can also make your offerings more flexible with vendor and customer-centric service tools.
Increased LTV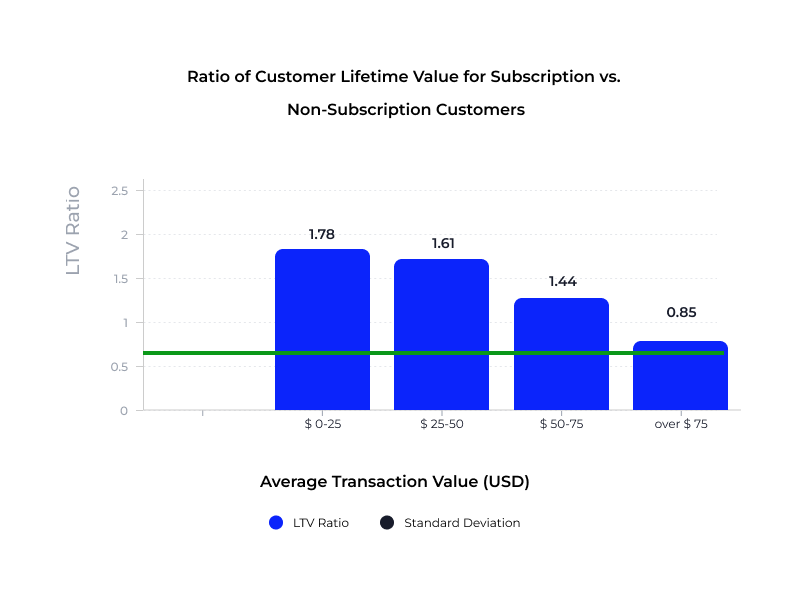 Lifetime Value is one of the key indicators of how things are going in a company. It is its growth that the marketing strategy is adjusted for. The app subscription model benefits businesses when it comes to online shopping. Your customer relationships are strengthened, and your revenue becomes more stable.
Higher customer engagement
Full-access subscription users intend to get as much out of the app as possible. Therefore, they are interested in upgrading it. If they bought it once, they're more likely to keep it. Of course, you must constantly monitor its compliance with their requirements.
If customers trust you and share your values, they will continue to work with your brand. It is one of the biggest advantages of the in-app subscription model. You can get free marketing by sharing helpful content with them in communities. Of course, if customers share subscriptions with acquaintances, friends, etc.
Lower customer acquisition costs (CAC)
Marketing is expensive and time-consuming. It is better to focus on retaining existing customers, as it is known that it costs more to acquire new ones.
Easier financial forecasting & inventory management
Stable revenue simplifies inventory management and planning. It is one of the main pros of mobile apps based on subscription. If you have a large pool of loyal customers, you can say precisely how much you will earn in a given period. You will be able to plan and achieve your goals.
Disadvantages of Subscription Models
On average, less than 2% of users pay for subscriptions. Why? The app may not meet their expectations, or they cannot perceive the value of a subscription-based app.
Creation of new features and content
You are paid to use the app, so they want the most out of it. Keeping your users from looking for other offers will require constant work on adding new features.
It's important to let them know you're with them for the long haul! Please keep track of what content and features are used most frequently, and then inform your customers when updates tailored to their interests are launched.
Free Trial Period is Vital and May Require Tweaking
The customer needs to be assured that the app is suitable for them. This way, the disadvantages of the app subscription model can be mitigated. Once they have tried it out, they will probably want the paid version. You must identify what is missing and provide the proper functionality.
Better yet, go one step further by researching needs, market trends, and innovations. Bravely introduce impressive new premium features, and your audience will have no alternative.
Need great support
The user needs to know their app will always work. They've spent money on it, so it needs to be excellent support. The more professional the help, the more confident they will be about signing up.
A good support team can be expensive. But by then, you'll have a recurring revenue stream that can help.
Potential backlash
If you have a purpose for creating a monthly subscription app, be aware that switching from a one-time fee may cause a backlash. You must convince users you want the best for them.
Trusted communication will be required, explaining the benefits and prospects to customers. You may have to offer long free periods actively. But this way, you can strengthen your existing user base and attract new app fans.
Crowded market
You will have to deal with increasing competition. To face it appropriately, you will need unique ideas and ways to implement them, advanced functionality, first-rate design, premium content, and quality service.
If customers start to unsubscribe, don't get in the way. If subscription-committed users decide to leave, you can't force them to stay. If they do stay unwillingly, they might write negative feedback. If you leave a positive impression on them, some of them will return.
Consider Weelorum as Your Trusted Partner
Our company offers comprehensive app development for iOS and Android. We create apps from scratch and integrate any features into existing ones. Our app publishers successfully promote them in the Play market and app store by tracking their downloads.
We use both proven technologies and innovations
Expand your possibilities with our help!
Contact us
If you want to implement the potential of apps with a subscription-based revenue model, we've put together the best recommendations of our developers, especially for you:
Provide great onboarding
It is crucial with a pay-per-use model. If you're using a pay-per-renewal model, offer a straightforward way out of the pay-per-use model.
Show everything you've got
Give the customer a choice. The more options you have, the more likely a subscription will appeal to them. Allow them to construct their payment plan.
Offer the transition carefully
Communicate clearly and on time before switching to recurring payments, allowing customers to remain on the previous model.
Price it carefully
The cost of subscriptions can affect the monetization of the app. Therefore, find out how much your peers in the market are worth. Then take into account the usage and pricing matrix. Finally, consider how often you can update the content and functionality.
Few people like to keep up with the same price tag, and not everyone will be able to afford it. Offer several monthly and yearly subscription options. Be sure to offer good discounts for first-time and regular users. Create a chat room to communicate with customers about pricing.
Demonstrate benefits
Show the user how much money they can save by subscribing. They want details, so provide concrete examples with calculations in the newsletter. And remember to show how you've eliminated the cost of subscription-based apps.
Measure your subscriptions
It would help if you had an accurate picture. It requires constant monitoring and analysis. You'll be able to identify problem areas and optimize your products and offers to meet customer demands and expectations. And in addition, increase your revenue.
Conclusions
Subscription-based apps are favored by millions. Thanks to them, dozens of companies have become successful. You should be in a hurry to become competitive, strong, and wealthy. Weigh your odds carefully and get started. But be sure to take our advice. If you don't have the time or required expertise, we can help you. Get in touch with our experts, so we can work with you to share the success of your app!
FAQ
Is there still potential for apps with a subscription-based revenue model?
It's a cost-effective model. To increase the profitability of your app, it is vital to correctly understand your app's lifetime value (LTV) and compare it to the customer acquisition cost (CAC). Your audience engagement activities must demonstrate that the app user continues to benefit from their subscription renewal.
What are the main pros of mobile apps based on subscription?
For the user:
● Free download and trial version
● The ability to pay less
● The app is always supported

For the owner:
● Relatively small start-up capital is required
● Predictability of income and planning accuracy
● The ability to gather information for analytics and adjust strategies
What are the cons of subscription-based apps?
1. You will have to constantly work on improving functionality
2. Need great support
3. You should be prepared for potential backlash
What are the benefits of subscription apps?
1. Strong brand
2. A steady flow of funds
3. Ability to experiment
What are the disadvantages of the app subscription model?
1. High rejection rate. Only some people need a subscription. Some people don't like being tied to an app. Others can't afford it.
2. Problems with monetization. Such an app is challenging to develop, so it costs more.
3. Dependency on customers. You will always follow their wishes.