Social media captivates our attention every day by providing an infinite supply of engaging content. Everyone can find something they like. That's the exact reason why adults in the US spent about 8 hours a day on digital media in 2021. And TikTok is one of the main reasons people scroll through their feeds infinitely. Millions of videos are uploaded to the platform daily, showing there is a lot of interest in this concept.
Read on to find out how to create a TikTok-like application, the required features & technologies, and the actual cost of building an app of this type.
Looking forward to building an app like TikTok?
Choose a Ukrainian outsourcing company as your partner.
Contact us
How Popular is TikTok's App?
In 2021, TikTok reported reaching 1 billion users from all around the world. The largest segments of the active audience came from China, with 600 million users, and the United States, with 136.5 million users. The number will probably keep on growing with each year..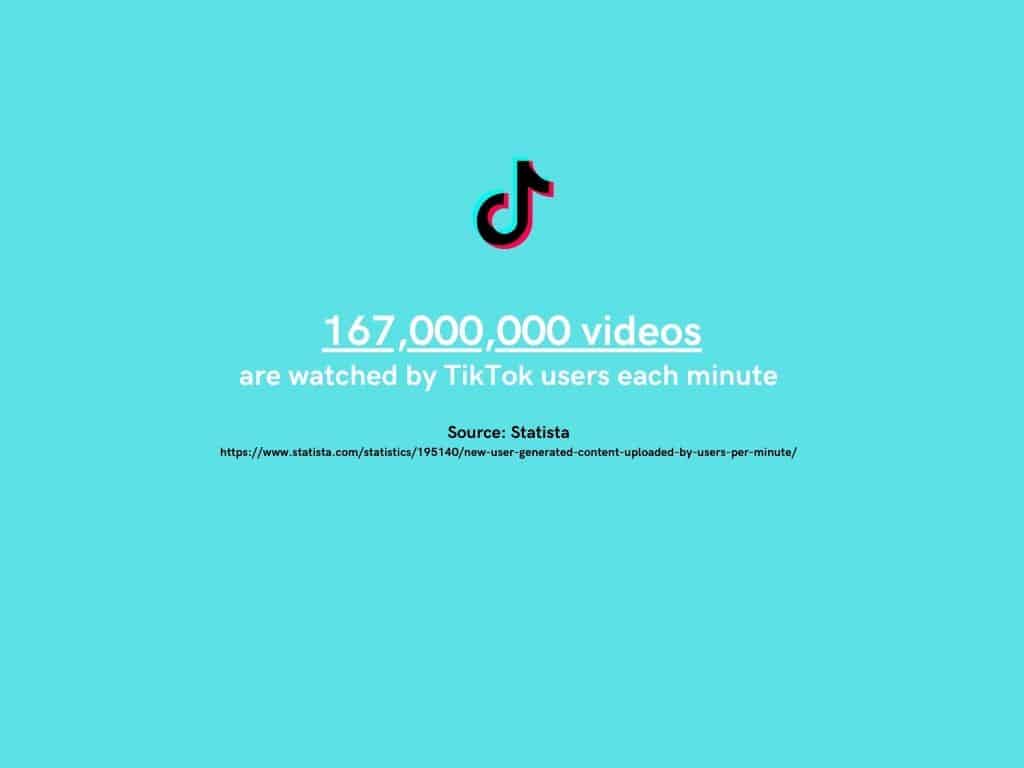 Another breathtaking number is that TikTok users watch 167 million videos per minute. This demonstrates the level of engagement and proves that TikTok is truly the leading social media platform.
Backstage at TikTok: How Does It Work?
To understand how to make a social media app like TikTok, you must first understand how it works. TikTok uses a complex recommendation algorithm to display content that would be the most engaging for a user. The goal is to keep the user within the app for as long as possible, providing more and more videos based on individual preferences.
The application uses machine learning to build accurate suggestions based on three factors: user interactions, video information, and device data. Let's take a closer look at these factors.
User Interactions
This is the "heaviest" factor that determines the content shown in a user's feed. It estimates your interest in certain types of content based on:
Likes, shares, and follows;
Videos added to "favorites";
Published content;
Comments;
Videos flagged as "not interesting".
One more point is how long you watch the video. Watching a video entirely shows the algorithm that the user has a strong interest in this type of content, making it add more topics of the kind to the feed. And accordingly, skipping the video flags such content as "uninteresting". 
Video Information
User interactions are then combined with video information to ensure that only relevant content is shown. TikTok assesses the contents of a video based on:
Captions with keywords related to the topic;
Hashtags that categorize the content and provide additional info;
Audio that helps the algorithm identify trends.
Hashtags are among the most important elements here. Apart from providing the algorithm with additional data, videos with hashtags are also shown to more users. TikTok currently lets users subscribe to certain hashtags, so it is yet another instrument to choose preferences.
Device Data
While this factor is the least important, it also influences what a user sees in their feed.
Some elements include:
Device type;
Country settings;
Language preferences.
If you set English as your language and are located in the US, you are unlikely to see content in French or Italian. However, this may be changed by choosing the language settings in TikTok.
Why Do You Need to Create an App Similar to TikTok?
Developing a TikTok-like product is an extremely promising venture that can bring in huge profits. Here are just a few advantages to offer your business why creating an app like TikTok is a good idea.
Huge demand
Today, users overwhelmingly use applications for sharing short videos. Most major platforms like YouTube and Instagram have already integrated the ability to create short videos into their platforms. Such moves are an attempt to get their share of the pie. So why don't you ride that wave?
A promising marketing platform
Platforms like TikTok hold outstanding potential for promoting various products. Companies spend millions on advertising in TikTok. By developing such a platform, you can get lots of offers from brands about promoting their videos.
Big profits
Once you've gained a large enough audience, you can start monetizing your app. You will have a powerful marketing tool and data of millions of potential customers in your hands. The possibilities for monetizing such software are almost endless — starting with advertising and finishing with subscriptions and in-app stores.
What Features Should an App Like TikTok Have?
Developing an app similar to TikTok requires understanding which features make TikTok so engaging.
1. Video Uploading
Users must be able to upload content to their accounts. That's the driving force of all similar platforms. TikTok's current restrictions limit the length of ready-made videos to 10 minutes, allowing creators to come up with all kinds of creative ideas.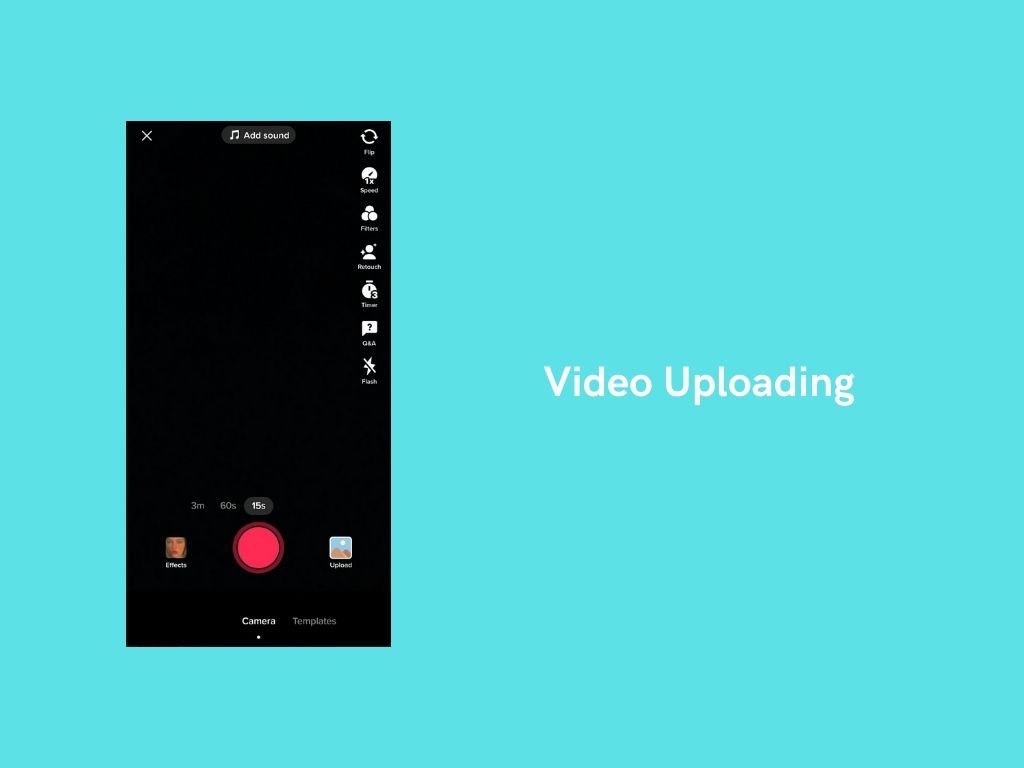 2. Video Editing
The platform must provide different editing tools for creators to tailor content better. TikTok allows users to apply various filters and effects, retouch, speed up, and trim their videos. Some other features involve adding music and applying templates.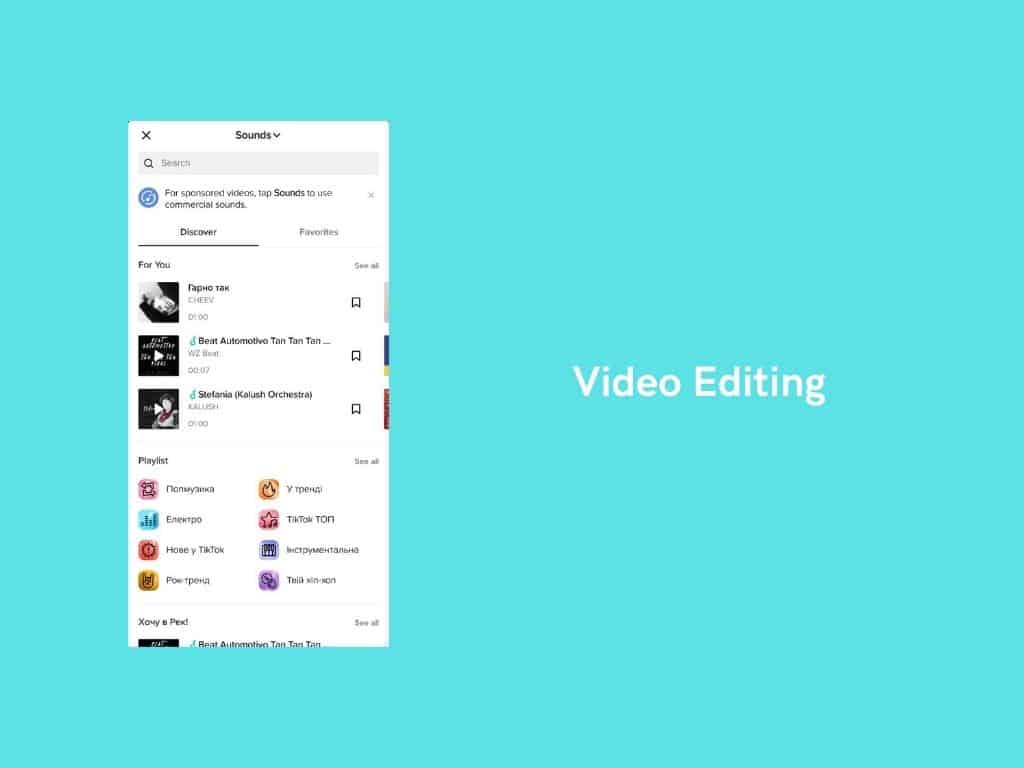 3. Live Streaming
Live streams allow people to interact with a large audience in real time, building a strong sense of community. There are no limits on topics. From Q&A sessions to gaming nights, the only important thing is that everyone has fun. TikTok allows people to donate to streamers during live sessions.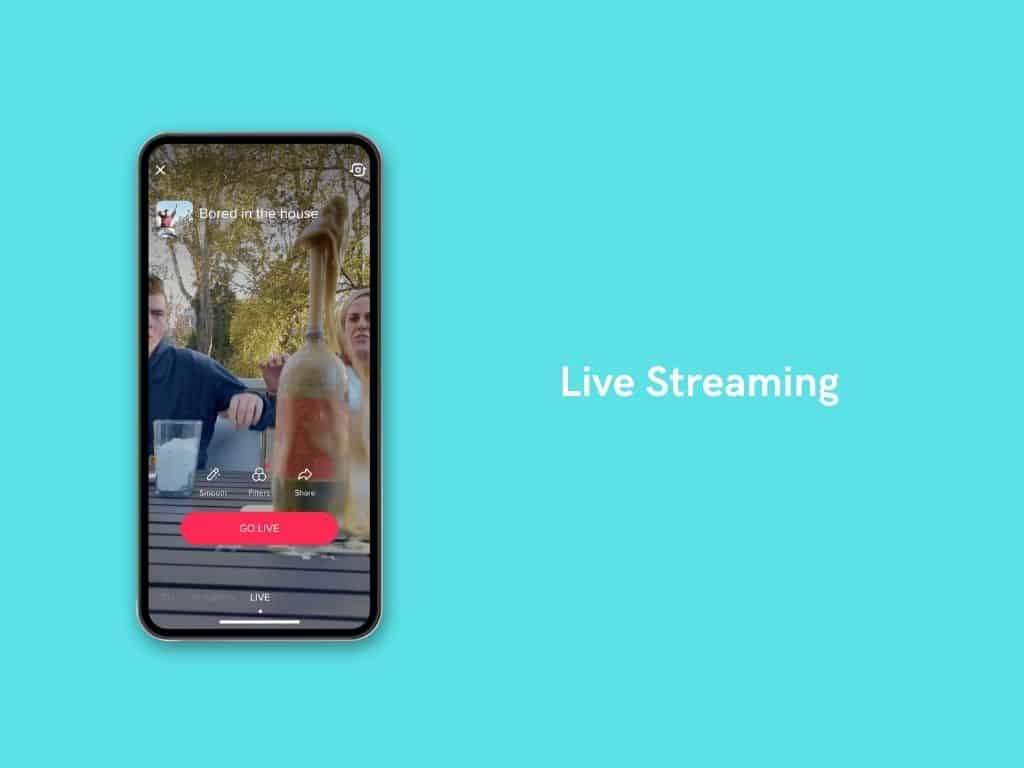 4. Sharing Options
Sharing content is a must. It's a way to attract more users to the platform and keep people engaged with the app for a longer timeframe. That's why there should be a possibility to share content internally and externally. It is best if external sources include all popular social media.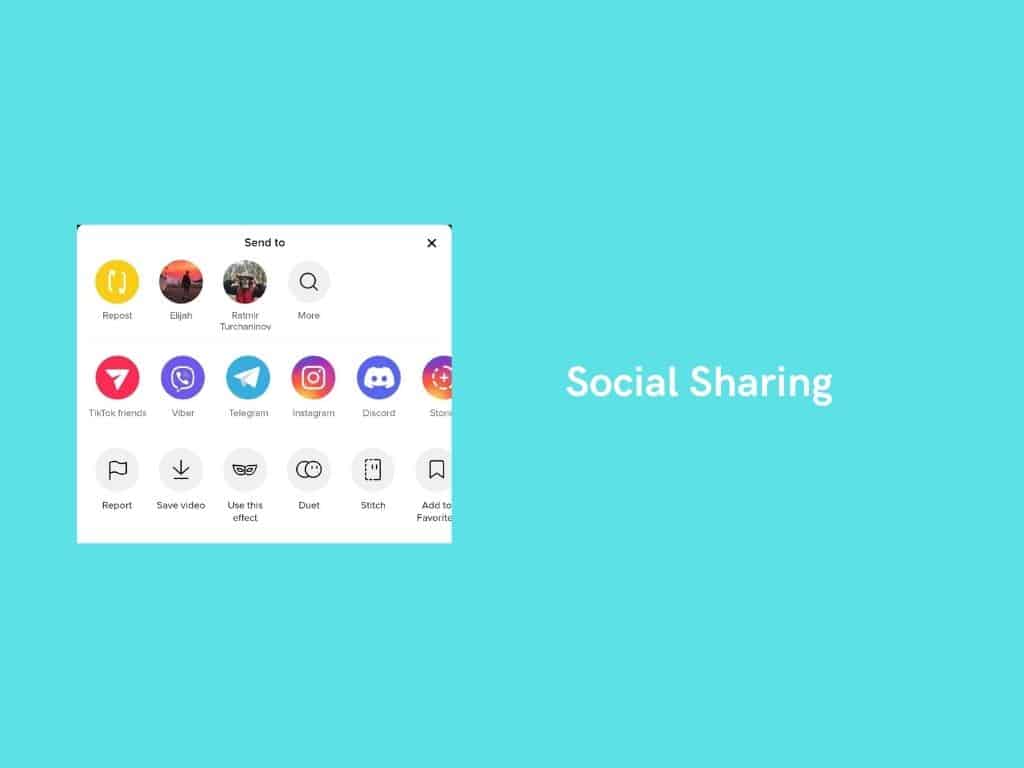 5. Discovery & Search
The "Discovery" section shows trending content quickly gaining popularity. It's a must-have to increase user engagement and promote the creation of quality content. The search option is also necessary so that people can find accounts, topics, and hashtags of their interest.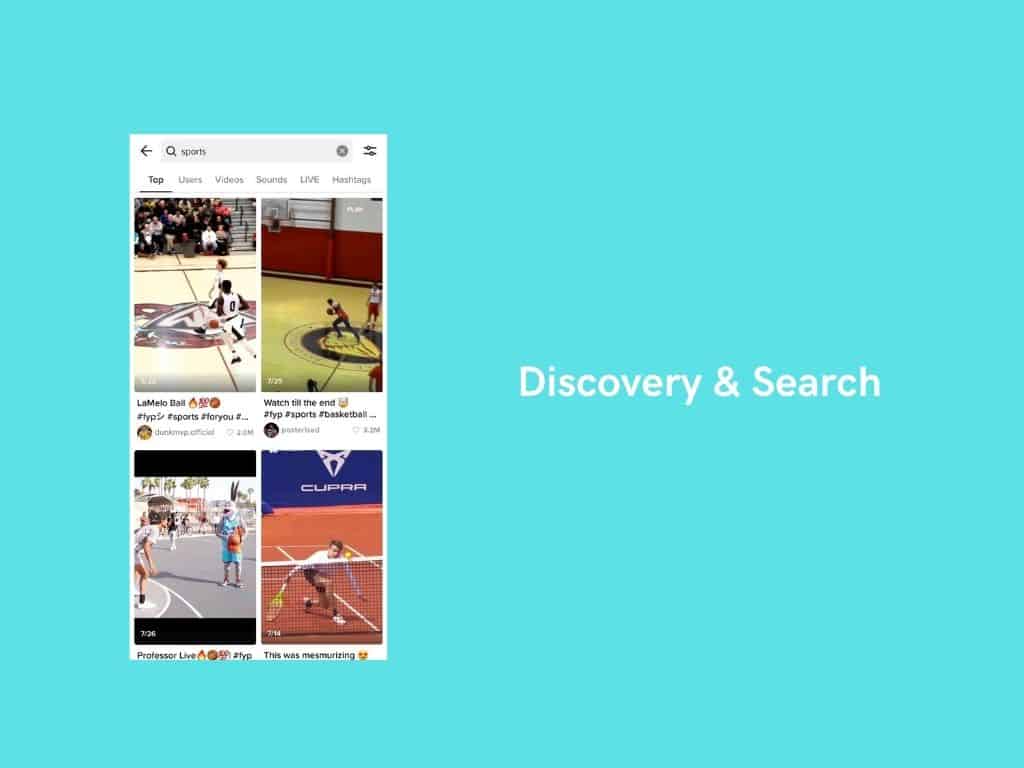 6. Other Features
There are hundreds of features required to develop an app like TikTok or even better. Some additional options that must be mentioned are:
Account creation;
Profile editing;
Recommendation algorithm;
Comment sections;
Notifications.
If you aim to conquer the market, you need to think of a concept that brings something unique and wins where TikTok has flaws. That's how you can potentially grab a share of the giant's audience.
Advanced features
You can also add more advanced features when developing an app like TikTok. They are not critical to the operation of the application, but users will appreciate the presence of innovative technologies. Let's take a look at some features of TikTok in addition to the basic ones.
Personalization
TikTok-like apps are already extremely engaging for users as it is. This is all thanks to video matching algorithms based on artificial intelligence. Personalized video delivery will be a great help in popularizing your app and recruiting a user base.
Geolocation
When you build a short-video app like TikTok, you can equip it with geolocation detection. With this feature, users will be offered videos shot in the same country or even city. This is an extremely powerful tool to promote local bloggers and brands, so you'll get an audience in no time.
Real-Time Analytics
You can also add real-time analytics during TikTok-clone app development. With it, streamers will be able to get information about likes, subscriptions, and views on the fly without the need for third-party services.
AR Filters
Augmented reality technology will allow your users to make even more interesting videos. When creating a TikTok app, you can add fun masks that will automatically stick to users' heads using face recognition technology.
Video preview without registration
To entice new users, allow them to preview videos without registering. The video-matching algorithms will do the rest, and pretty soon, you'll have a registered user.
What Technologies Are Needed to Make an App Like TikTok?
You need a powerful tech stack to develop a video-editing app like TikTok. There are multiple technologies required for each aspect. While they might differ, the suggestions below are the most optimal choice.
Prototyping

Apps like Balsamiq or Figma are good for creating wireframes for your software. It's necessary to estimate the app before realization.
Designing

Designers usually use Figma, Adobe Photoshop, Adobe Illustrator, and many other tools to create UI/UX for their software.
Project Management

Management is required to keep all processes working and you updated. Tools like Google Suit, Jira, Hubspot, and others are used for this stage.
Web Hosting

Tools like Google Cloud and AWS are used to make your software available to millions of users simultaneously.
Database Management

Developers use SQL, MongoDB, and Cassandra to manage databases effectively.

Programming

A lot depends on the individual choice of a company. Usually, it's Swift or Kotlin, depending on the OS.

Storage

You need a secure place to store all data, from personal information to content. Amazon S3 is one of the best options.

Backend

Software like TikTok usually has its backend developed using Node.js or Python.


Notifications

There are different ways of sending notifications, but the most popular options are Google Cloud Messaging and Apple Push Notifications.
Testing

There are dozens of QA tools like Testsigma, Selenium, Eggplant, and others to ensure your software is bug-free.

Analytics

You should know what's going on within the app, so Google Mobile App Analytics or Azure stream analytics is what you need.
AR Filters

AR Filters are a must for an app like TikTok, so you'll need ML Kit and ARCore for development.


Trying to choose the best tech stack?
Work with experienced engineers
to apply the best practices.
Contact us
5 Steps to Developing an App Like TikTok
Now that we've checked out the basic features and technologies, it is time to find out how to develop an app like TikTok. Below are the general steps of short-video-app development like TikTok required for success.
1. Research
The first stage of developing a TikTok-like application is research. Market analysis sets the foundation for your future application. Your first step must include research on your competitors like TikTok, Likee, KWAI, Instagram, and other apps with similar features. It is important to choose the right features for your app and determine your marketing strategy beforehand.
There is no sense in building a complete TikTok clone. Ask yourself as a user: "Why should I use this app when I already have TikTok?" You would only move to something that's better, more interesting, and more engaging. That's what you should aim to create.
During this stage, you must also determine your target audience. Avoid using general settings like "males aged 18" because they bring no value to your research. Focus on interests and behaviors. These provide a deeper insight into your potential user base. 
The two options to consider when building a user portrait are:
Demographic profile. This type of segmentation includes age, location, device OS, financial status, and other related data. It is required to help you build a general image.
Behavioral data. You must understand the driving force behind each user's decision. This section includes interests, expectations, needs, and other similar information.
This data will help you improve your marketing efforts and provide a personalized experience for each user. It is one of the cornerstones of developing a successful application.
2. Monetization
When considering creating an alternative for TikTok, you probably aim to reach the same profitability. That's why it is necessary to determine your software's monetization models.
TikTok mostly earns money from these models:
In-app purchases. TikTok lets users support streamers by buying digital gifts within the platform. These are purchased with coins that are bought for real money. You can come up with other types of microtransactions like unlocking fonts, profile backgrounds, etc.
Advertising. TikTok regularly shows users ads of all kinds. These include in-feed ads, brand takeovers, TopView, branded effects, and other types. Ad revenue comes as the dominant source of income for this platform.
Think of all the ideas you could implement. Avoid significant paywalls to provide a good user experience. If you focus on income too much and hide all features behind payments, you will drive most users away. Try finding the perfect balance.
3. Design & Development
Now that you've gathered some data for the app's basics, it's time to start collaborating with an outsourcing development team. Most companies start by estimating the project requirements, conducting business analysis, choosing the tech stack, providing estimates, and planning the development steps.
During this stage of development of a complex TikTok system design, you should create a wireframe that shows how your app works and what it looks like. This will help you implement any required changes before the actual development begins. Once that is confirmed, proceed to build the software's MVP.
A minimum viable product (MVP) is needed to test your idea and determine where to invest in future development. Only must-have features are added at this phase. This lets you validate the whole concept of the software while minimizing expenses before you get a clear vision.
The MVP should include the following:
Account registration;
Profile settings;
Basic UI;
Photo & video creation and uploading;
Search options;
Sharing options.
All features combined take about 600 hours to develop. You can modify the functions you include in your MVP, but remember that it must involve all the basics of a social media app.
4. MVP Deployment
Publish your MVP on all possible platforms to see what the community thinks about it. You should gather user feedback to define the future development path. Some features may be removed after this stage, and that's absolutely normal.
Apart from validating your idea, you will also understand whether the chosen technologies are a good match for your expectations in terms of performance and throughput. Potential issues in these regards must be detected as soon as possible. This will help you avoid losing thousands of dollars.
Note that testing your MVP requires having an interested audience. While you can test the app by hiring QA engineers, the true validation can only work with your target audience. People will provide you with the deepest insights in terms of usability, engaging features, and boring parts. That's why you need to start marketing your idea slightly before the MVP is created.
Also, there are no limitations in terms of the number of people using your MVP. The more, the better. You need to get maximum from your target audience to build a top-notch product.
5. Marketing & Maintenance
Now you gradually turn your MVP into a whole product with all must-have and nice-to-have features. It is time to focus on full-fledged marketing and maintenance.
Advertising is essential to attract a large audience. People won't find out about your application unless you spread the word, so you must set a decent budget to cover all major digital channels. Some ideas include:
Targeted ads on social media;
Collaborations with bloggers;
Growing your own social media pages.
At the same time, you must keep on TikTok-like app development by fixing issues and adding new features. You will definitely come across multiple ideas to implement, so your development team will have quite a lot of work to do. Just don't let the app stagnate. Keep it growing!
Challenges of Developing a TikTok-Like Application
Don't think that TikTok app development is a walk in the park. What at first glance seems simple and intuitive is, in fact, the work of very complex mechanisms and algorithms. Even if you have a detailed development plan and work with professionals in software creation, you may still face a number of challenges.
Video encoding
When creating a TikTok-clone app, you'll have to deal with a huge number of video formats, platforms, and devices one way or another. All these formats need to be compressed and unified, otherwise, they will take up a huge amount of space on servers, and the load on the network, in this case, will be enormous. All this requires knowledge of video encoding and decoding, but specialists in this field are rare.
Implementation of rendering
To be able to add a variety of graphical effects to the application, it is necessary to implement high-performance rendering. This is usually done with the help of OpenGL and Metal. Working with them is quite complicated and requires the highest level of expertise.
Video format support for iOS and Android
When developing an application like TikTok, you should keep in mind that iOS and Android platforms support different video and audio formats. In the case of Android, format support can also vary from device to device. To provide users with the best experience, you should be extremely careful to implement support for different formats, or videos will simply not run on some devices.
Face tracking
When you make a social media app like TikTok, in order to implement masks and interesting effects, you have to implement face recognition. Creating such effects is extremely challenging, but on the bright side, you can avoid wasting a lot of time and money and use ready-made software Face AR feature sets.
How Much Does it Cost to Create an App Similar to TikTok?
Now we're reaching the most interesting part of our guide to developing an app like TikTok. Below you'll find a price sheet that estimates the costs related to each part of the process.
Types of Work
Android
iOS
Back-end
Price
Developing Features

1,000 hour

1,000 hour
1,000 hours
$125,000
Integrating
Frameworks & Libraries
160 hours
160 hours
160 hours
$20,000
UI/UX Design

240 hours
240 hours
—
$12,000
Testing and QA

250 hours
250 hours
250 hours
$15,000
Project Management

300 hours
300 hours
280 hours
$17,600
Total
1,950 hours
1,950 hours
1,690 hours
$189,600
The price is calculated considering the average costs of hiring a development team from Ukraine. This is about $35 per hour. Note that the number may differ depending on various factors.
Consider Weelorum Your Trusted Partner in Developing Your Mobile App
Weelorum is your trusted tech partner with immense expertise in mobile app development. Our team has an extensive background working on software for Android and iOS, providing market-winning products to clients worldwide. Our case studies prove that.
Here's how we work:
Guiding you to success. We help you choose the most suitable technologies that make your application fast, responsive, and effective.
Writing quality code. We develop software using modern standards to provide a scalable solution with maximum performance.
Improving your idea. We share our expertise to help you build an app that keeps users engaged and becomes the market leader.
Our team has already successfully developed social media software for a Photo Copy project. We'll gladly share our expertise to help you build a market-winning solution.
Want to develop an app like TikTok?
Collaborate with people who've got the experience.
Contact us
Final Thoughts
Now you know how to build an app like TikTok. This is a process that requires extensive research and a decent degree of creativity to beat all the competition. However, creating a similar application is not a challenge when you collaborate with the right developers. That's why you need to partner with a reliable tech provider to stand in line with the market leaders.
FAQ
Can I build an app like TikTok myself?
There are many no-code platforms that don't require technical skills. However, these let you combine only standard solutions. If you want to get a custom app with a breathtaking design and engaging features, then you should collaborate with a professional team.
How much does it cost to build a TikTok clone?
The price may be anything between $100,000 and $200,000, depending on your needs. Each project's price is calculated individually.
Can I create something better than TikTok?
Yes, your imagination is the only limit. Analyze TikTok's flaws, build a more engaging concept, and hire a team to bring the idea to life. Weelorum is always there to back you up with cutting-edge technologies and expertise.